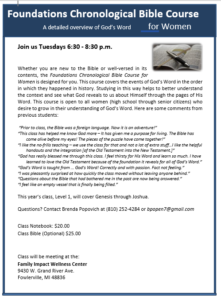 Foundations Chronological Bible Course
This year's class will cover Genesis-Joshua.
Brenda Popovich is the instructor at the Wellness Center
Watch our 10:30 Live Stream Sunday Service on our Facebook link below.
You can install Instant Church Directory App onto your phone. (Preferred)
We have made changes to our giving. Press the button above or –
go to Tithe.ly (First Baptist Church of Fowlerville)
Multi-Gift Designations – Give to multiple funds in one transaction
(General Tithe, Faith Promise, Benevolent Fund, Love Gift)
ACH bank transfer (eCheck) * Credit Card
Transaction Fee: 1% for ACH + $.30 per trx and 2.9% + $.30 credit card.

You can **COVER THE COSTS OF PROCESSING**, which enables you
the donor to cover the per transaction cost associated with the gift